Naw naw naaaawww ... this isn't the SECOND greatest video in the world. It's THE greatest.
I swear, I got that rush of All The Feels when he actually took her hand *in front of all those people,* even though I knew it was going to happen because I have seen this like a thousand times. Thanks for putting it into the middle of my day. Love!
(Even though it is in fact a resolution agreed upon by us all that JC is the worst of total teenage dirtbags.)
Posted on March 12, 2014 at 8:44 pm
1
Rob Ford
Sweating and swearing and inebriation
Destroying a city and its reputation
Sanity tenuously held by a string
These are a few of my favorite things.
OH AND ALSO CRACK I FUCKING LOVE CRACK.
Posted on December 5, 2013 at 5:04 pm
12
I don't do Black Friday shopping as a general rule, at least not in stores. I have very little patience for crowds and try not to go out during peak shopping hours at any time of the year, so Black Friday is my idea of hell. But I'd saved up for this dress for my friend's wedding and I scored 30% off, which was enough to let me go shop the Body Shop's online 3-for-$30 sale afterwards.
I was pleased, anyway.
Posted on December 2, 2013 at 1:44 pm
1
Oh man, I am dying to live and work abroad (especially in SE Asia), but I just can't figure out how to make it happen. Great interview, glad these traveling/living abroad alone interviews are back!!
Posted on November 18, 2013 at 3:34 pm
1
@Emma Carmichael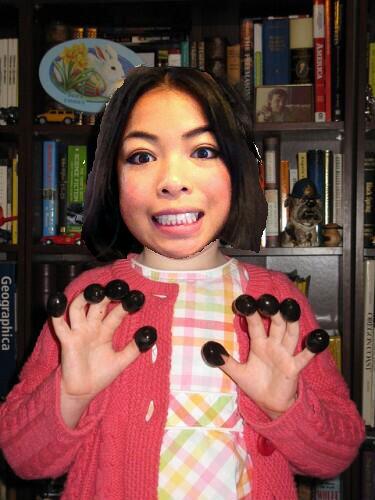 Posted on October 25, 2013 at 12:29 pm
10
My brother asked me to be his best man/lady! I am really, really excited even though I'm going to be a disaster when I make my toast!!!
I'm also finally giving up on being a grump and trying to get into fall--hopefully going to the pumpkin patch and a harvest festival this weekend. And maybe drinking a maple latte.
Posted on October 18, 2013 at 5:48 pm
8
For those brave few that are still interested in hearing about the Bergy Bits:
The girls got their first baby dolls (lil dude almost got one but decided to get a little dog instead). They were attentive mothers: changing diapers, bathing their babies, putting them to sleep - and later, using them to play catch.
The (increasingly less quiet) Quiet One: "See my butt?" lifts shirt, points to belly button.
Taught them how to do "This Guy / This Girl" (2 thumbs up, pointed at self). Also Peace Signs, which they now use almost interchangeably with "two" as in "Peace sign cookies!" means "I want 2 cookies!"
Posted on October 18, 2013 at 3:41 pm
27
40% burritos
30% new booties
20% birthday cake Oreos
10% Kourtney and Khloe Take Miami (eeep!)
Posted on October 17, 2013 at 6:37 pm
3
50% nail polish
20% Carbs and/or Nutella
5% Hairpin at work
5% 90's pop
10% The CW
10% Deep conditioning hair treatments
Oh no wait I forgot second breakfast...
Posted on October 17, 2013 at 4:44 pm
2
@Spaghettius!
SymmetriKittens!
They are much bigger now; they were three months old in that pic, and that was three months ago. But they're still little and cute and the gray-and-white one fell into the toilet last night while prowling around the bathroom, his favorite place.
Posted on October 17, 2013 at 4:28 pm
5