@allyzay for the record I should tell you I was only kidding, I don't really know Ned. I made up his book's title. He seems like a fairly despicable fellow.
Posted on May 2, 2014 at 3:53 pm
6
@Das Rad Damn, I just googled "psychic" and I am seeing that they aren't the bonded and certified actuaries of the future that I thought they were???? HAIRPIN, YA BURNT
Posted on February 25, 2014 at 4:59 pm
9
@purefog If you're not using a spectrophotometer and (metric) calipers, you just don't care about feeding your family quality food!
Posted on October 21, 2013 at 7:21 pm
4
Yes, it's made of chemicals, but so are many things in the American diet at this point
I like the idea of this series but statements like this make it really hard for me to trust the author's expertise. Using "chemical" as a scary buzzword is a misunderstanding of basic science- ALL food is made of chemicals!
Posted on October 21, 2013 at 1:41 pm
15
@eringobragh BRB, burning down the site.
Posted on October 3, 2013 at 2:05 pm
13
@yeah-elle Last night I drank tequila and listened to the Confessions album all the way through and was briefly convinced that it's the best album of the 00s. Might still agree with my tequila brain.
Posted on August 22, 2013 at 1:51 pm
6
blogging from my deathbed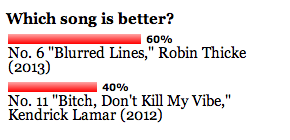 Posted on August 22, 2013 at 1:35 pm
Posted on August 22, 2013 at 1:35 pm
10
@Ellie oh i fully think the internet's response showed a 99% "fantastic mind blowing sweetest montage-in-UP feelings" to 1% "jia" breakdown on this
Posted on August 8, 2013 at 3:54 pm
6
@cee My sensitive dude friends like him and I am like "let me make you a mixtape in which girls cover drake songs and make them actually good"; did you know that Jojo's 'marvin's room' is straight-up amazing?
(OK OK I like his guest on Meek Mill's 'Amen' but that is mostly because it is somehow an object lesson in Drake being just an embarrassing human being)
Posted on August 6, 2013 at 3:40 pm
3
@cee his tracks about women are like 4-minute long negs
Posted on August 6, 2013 at 3:38 pm
8