@laurel Well, you may be thinking of someone howling at a hot person, but the only times I've ever heard anyone say "woof" in appreciation is when hanging out with Bears. (The gay, hirsute human kind, not the grizzly kind.)
Posted on December 12, 2013 at 3:51 pm
0
@Roxanne Rholes I will continue to use lesbianism as my birth control.
Posted on December 12, 2013 at 1:26 pm
14
I'm so glad you noted that those words don't make any sense, Jia, because I was so confused while reading about Immy. The rest of this, well. It's like a bad fever dream. Also, I will refrain from making a joke about other uses for coat hangers in the 1950s, but know that I'm side-eyeing the patriarchy. Hard.
Posted on December 11, 2013 at 2:33 pm
5
@hallelujah I was floating a river with my little sister once, and around one bend there was a naked dude on the riverbank just jacking it. Obviously he was some type of exhibitionist, and I wanted to ignore him, but my sis was there, and I got pissed. So I yelled at him that I was going to call the cops and that his mother would be so disappointed. He also got an earful from the college dudes floating behind us. Ugh ugh ugh ugh.
Posted on December 10, 2013 at 1:30 pm
3
I always think of this when I see these commercials: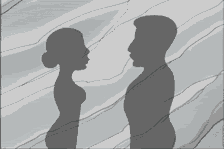 Posted on December 9, 2013 at 2:38 pm
7
I was just telling my ladyfriend that whoever is responsible for the dialogue in the Kay commercials should have their fingers crushed and never be allowed to write again.
Posted on December 9, 2013 at 12:55 pm
5
@stroopwafel See, I see snakes, and then think, "Stay away, Slytherin dudes. Do not want."
Posted on December 9, 2013 at 12:53 pm
2
@iceberg Perfect. At my publication, my boss runs all the headlines by me to make sure we don't print something embarrassing. "Could this be sexual at all, Rose?"
Rose: *sees headline "Keeping It In the Family"* *laughs a lot*
Rose: "Yeah, that's about incest."
Posted on December 6, 2013 at 5:16 pm
3
@SmartCookie Honestly, it's probably because the lab is at the hospital, and not because you're going to be submitted to some crazy procedure.
Posted on December 6, 2013 at 4:51 pm
0
@iceberg Oh, my brain almost subconsciously makes double entendres of everything. If it can be make sexual, I'll usually point that out.
Posted on December 6, 2013 at 4:51 pm
1