A quick Google search confirmed (as if further proof was needed) that he's an insufferable douche. He likes to throw gang signs in pictures, and said his ex-girlfriend attended Brooklyn Law School as an "anthropological experience."
Tough talk for a deferred Dewey associate.
Posted on December 5, 2012 at 3:08 pm
10
Does anyone else want to see Sia take over the world?
Posted on December 5, 2012 at 12:46 pm
4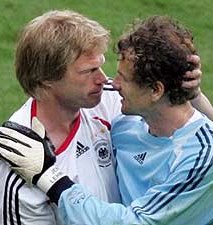 Two keepers embrace.
Posted on November 29, 2012 at 10:20 am
27
15%- have drunk National Bohemian non-ironically
Posted on August 1, 2012 at 5:04 pm
5
@meetapossum I would also like to use this space to call out women who wear running shoes with skirts to work. I get it, ladies. Heels are uncomfortable. I don't wear them to work either. But pleeeeease find a nicer pair of shoes to wear for walking. You look ridiculous.
Posted on August 1, 2012 at 4:53 pm
9
@Anna Jayne@twitter No running shoes with dress pants ever! :(
Posted on August 1, 2012 at 4:48 pm
18
So is your name Smiley or Adam?
Posted on August 1, 2012 at 4:46 pm
6
Blah, LW2. I've seen a good handful of awesome, smart girls date a good handful of juiceboxy guys. Like, maximum juicebox. Juicebox overflowing with juice, then you poke the straw in the top, and next thing you know it's spilling all over your table and making a big mess. Okay, this analogy is sucking.
Anyway, ugh, at HARD AS THIS IS FOR ME TO SAY, less is more when it comes to the criticizing. I have gotten myself into some unpleasant friendship snags after being too vocal about the douchiness of the boyfriends.
One of my very good friends just broke up with her boyf this weekend but she didn't even tell me for like a week because, according to her, "I'm sure you're just tired of hearing about him, and you'll just say I-told-you-so" :/ Sorry for partying, and by "partying," I mean, "pointing out how awful some dude is."
Posted on January 27, 2012 at 2:25 pm
11
I feel so so sorry for LW1's boyfriend.
Posted on January 27, 2012 at 2:24 pm
31
@parallel-lines Seriously! The first thinkg I thought of her was: I don't like her fake name and I don't like her face. And then I thought: That's mean, she can't help her face. AND THEN I was like: Yes she fucking CAN.
Posted on January 26, 2012 at 4:09 pm
6